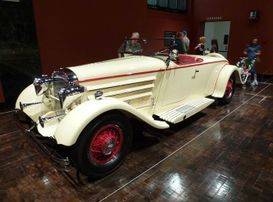 Have you often wondered how realistic the reality TV restoration shows are? Make your reservation now to attend our Capaldi Restoration Clinic to get a behind-the scenes look at the operation of a real restoration shop with a special focus on the research needed prior to beginning a restoration. The event is scheduled from 10:00-12:30 p.m. at Capaldi Enterprises Inc (36420 Biltmore Place, Willoughby 44094).
Last year's clinic was very popular, so Jim Capaldi has invited our section members and guests to return. At Capaldi Enterprises (established in 1989), Jim and his 7 staff members are involved in all phases of restoration except for upholstery and chrome plating. The Capaldi team is nationally-known for the quality of their restorations and have had vehicles at Pebble Beach and Amelia Island. One of Jim Capaldi's works recently sold at auction for over $500,000. Capaldi Enterprises pays close attention to detail and will deliver a factory correct automobile every time.
During this session:
Jim and his crew will give us an overview of the restoration process as a vehicle moves through the shop
We will learn how the restoration process begins with a thorough analysis of a 1930s Delahaye that recently arrived for restoration
There will also be plenty of time for Q&A
Light refreshments will be provided.
Questions?? Contact Rod Thompson at (440) 247-2853 or renold.thompson@clevelandship.com
Registration is $10 per person and includes light refreshments. Registrations are due by Wednesday, March 21. Print and mail the form below or register and pay online here.
Capaldi_Restoration_Registration_2018