Our 11th annual Old Cars Fun Day will be hosted by WRS President Rod Thompson (3175 Roundwood Rd., Hunting Valley, OH 44022). The event will start at 11:00 a.m. and end when the last question is answered. We will focus on Mercedes-Benz models of the 50s, 60s, and 70s, but all years and models are welcome at this popular event. Old Car Fun Day is a forum for owners and enthusiasts to meet each other and chat about their experiences as drivers and owners of older M-Bs. If you have a question or are experiencing a problem with your car, this is a great opportunity to get answers from the group.
This year's group of presenters includes:
Gene Blackford, owner of The Red Lacquer Room restoration shop, will present techniques for paint and body restoration using Morgan Taft's 1971 280SE 3.5 coupe as an example. What is the best approach for minor fender scrapes—rub out, repair, paint or restore?
Niko Koutavas, owner of Detailed Xpress, one of our Club sponsors, will present detailing techniques for different areas of our cars.
Both Gene and Niko have made outstanding demonstrations to our club in past years and we look forward to hearing from them again. Experienced club members who have worked with Gene and Niko will be there to assist and to answer questions as well.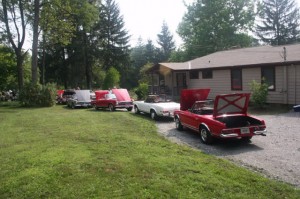 As an added bonus, another friend of our club, Frank Wrenick, will discuss his recent best-selling book entitled "Automobile Manufacturers of Cleveland and Ohio 1864-1942". This is a fascinating look at the heyday of auto manufacturing in our hometown.
Registration is $18 per person and includes a luncheon of pulled pork sandwiches, cole slaw, potato salad, & refreshments.
Clip and mail the form below with your check payable to MBCA Western Reserve Section to:
Ted Gottfried, 35 S. Hayden Pkwy, Hudson, OH 44236 or register and pay online here
Old Cars Fun Day_2017_registration
Questions: Contact Rod at renold.thompson@clevelandship.com or (440) 247-2853