There are upcoming memorial services for 2 long-time Western Reserve Section members who recently passed away:

The Memorial Service honoring former board member Lucy Gesell will be held on Saturday May 13, 2017 at 9:30 a.m. at St. Paul Lutheran Church, 147 West Forest Street, Clyde Ohio 43410. Lucy and her husband Fred Gesell have been very active board members of the Western Reserve Section and have participated in many local, regional and national MBCA events.
Following the service, the ladies of the church will be providing a lunch.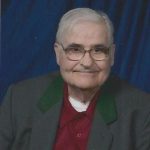 Rudi Kamper will be buried in a military service at the Ohio Western Reserve National Cemetery in Rittman (10175 Rawiga Road, Rittman, Ohio 44270). on Friday, May 26, 2017 at 12:30 p.m. Rudi and his wife, Joan, have been active members of our section as well as the Classic Car Club of America. Joan has requested that we join with the CCCA to form a procession of cars at the cemetery for the service. All Mercedes-Benz drivers attending should gather at the PIC building just inside the grounds of the cemetery by 12:05. A member of the cemetery staff will then lead us to the grave site for the service.
Following the service, Joan has invited all friends to come to the Lion's Park in Seville for a box lunch. If you wish to order a box lunch, please send $5 per person by May 22 to Ted Gottfried, 35 S. Hayden Parkway, Hudson OH 44236-3429. You can also order the lunch online here.