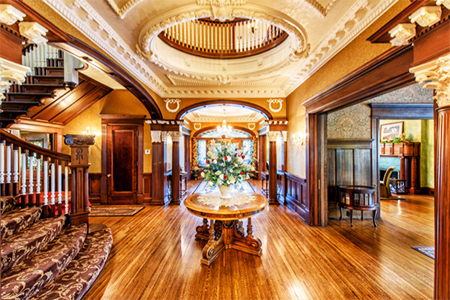 Saturday, January 7th marks the return of our Annual Holiday Party to The Sebring Mansion (385 West Ohio Ave., Sebring, OH 44672).  Join us for a classy evening at this historic venue featuring great food in an elegant setting.  Choose from 3 entrees:
Rolled Beef Roast with Horseradish Sauce
Chicken with Brie, Cranberries, and Apples
Salmon with Orange Ginger Sauce
Our evening begins with cocktails at 6:00 p.m. followed by dinner at 7:00 p.m.  During the evening, we will have the opportunity to explore the mansion as well.  The mansion was built in the early 1900s in the Italian Renaissance style by Frank Sebring. The Sebring brothers developed Sebring as a pottery town. For the racing fans, they also are the founders of Sebring, Florida.
The cost of the event including appetizers, dinner, and complimentary valet parking is $60 per person.  Dressy attire preferred.  Come and join the fun!
Online registration is available here
Questions??  Contact Sue Morrison 330-673-7885 or slm2teach@aol.com